Home page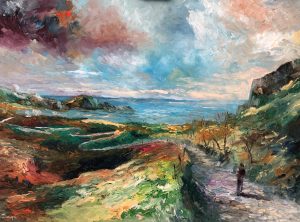 Latest News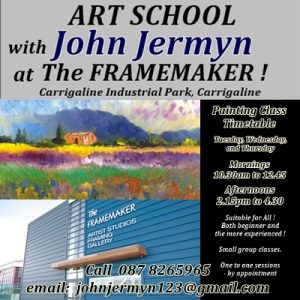 My STUDIO, GALLERY and ART CLASS is located at The Framemaker, Carrigaline Industrial Park, which is on the Crosshaven Road just outside of Carrigaline. A selection of my paintings are on show in the gallery and painting classes are also available.
Classes at THE FRAMEMAKER, CARRIGALINE CALL 087 8265965 One to one tuition or small group painting sessions. Classes are run on Tuesday, Wednesday and Thursday.
The morning sessions begin at 10:30 a.m. and the afternoon sessions begin at 2:15 p.m. For more information click here.
Viewing at the gallery is from 10:00 a.m. to 5:30 p.m., Monday to Friday and 10:00 a.m. to 1:00 p.m on Saturday.
---
Classes (maximum three people, and one to one sessions) are also available at the JOHN JERMYN STUDIO, FENNELLS BAY, CROSSHAVEN. Contact me for information. CALL 087 8265965
---
THE SACRED HEART ARTISTS GROUP Location: Western Road, Cork. Suitable to all.
Call or text for information about the upcoming Autumn term, commencing September 2020.
Mobile: Call 087 8265965
---